Ashkan Karbasfrooshan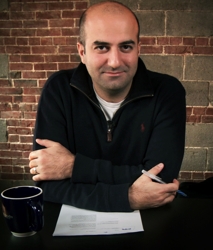 Ashkan Karbasfrooshan is the founder of Granicus Group and CEO of WatchMojo, one of the leading producers and providers of professional video content to portals, web publishers, online magazines, blogs, social networks and video portals.
A finance graduate from one of the top colleges in the nation, Ashkan started his career as in-house finance analyst at one of the original meta-search engines on the Web, Mamma. From there he worked in the online publishing industry where he headed up advertising sales for AskMen, generating $10M millions of dollars in sales which culminated with the $13.5M sale of the company to News Corp.
He left News Corp. and established Mojo Supreme in 2006 as an incubator which spawned multiple projects, including WatchMojo.com, which took off and today counts media companies and marketers as clients. The company boasts a library of nearly 7,500 videos on pop culture and infotainment and has served over 650,000,000 videos without any outside financing.
Ashkan is the host of the HipMojo show on the business of new media and online video. A prolific writer, he has written thousands of articles on business, sports, entertainment, lifestyle, pop culture, travel and much more. His articles have been published on MSN, AOL, Yahoo!, MediaPost, PaidContent, and Tech Crunch and he and has been quoted in Forbes, the BBC, Business Week, CNET, etc.
He is the author of Course to Success: Everything You Need to Succeed Beyond School and The Confessions of Alexander the Great: 33 Lessons in Greatness.
He holds a degree in Commerce and lives in Montreal and New York City. You can find Ash on twitter @Ashkan.